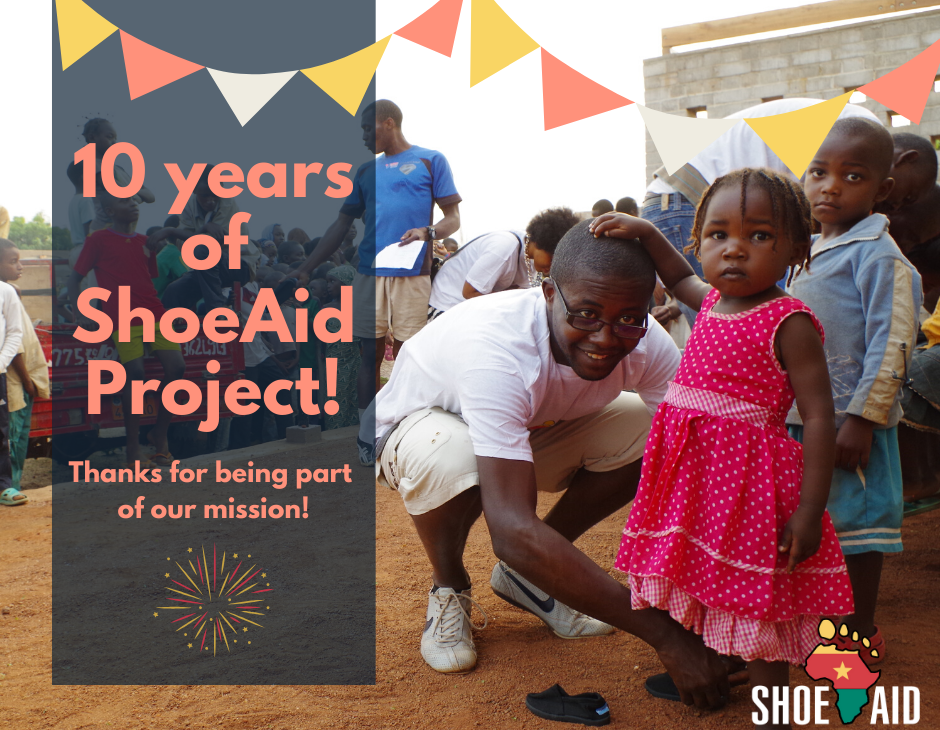 It is time to celebrate the 10 years existence of the Shoe Aid Project! In 2009 our founder had the idea to reach a number of development goals using shoes. Someone with a good and comfortable footwear is free from foot illness and can access schools, playgrounds and his/her working sites in total safety.
The project collects shoes from different groups to donate and support different groups in need in the south, precisely in Cameroon. In the past 10 years collecting and giving shoes has enabled us to see the importance of footwear in many communities. By giving shoes we have been sharing love and hope to those receiving them.
We wish to thank all our supporters and donors who have believed in us in the past years and have supported us financially or with footwear to keep the project going. We are still open for different forms of partnerships, and welcoming volunteers and interns to join our cause.
To celebrate this 10th anniversary, the Shoe Aid Project is setting the goal of collecting 10K pairs of shoes before the 31st of June 2020.
Join us in reaching this goal by organizing a shoe drive or shoe collection activity around you – at your workplace, your school, your block and more. Sports clubs, churches and shops are welcomed to join us to make the goal reachable.
Contact us if you plan to organize a drive – we can support you in planning.