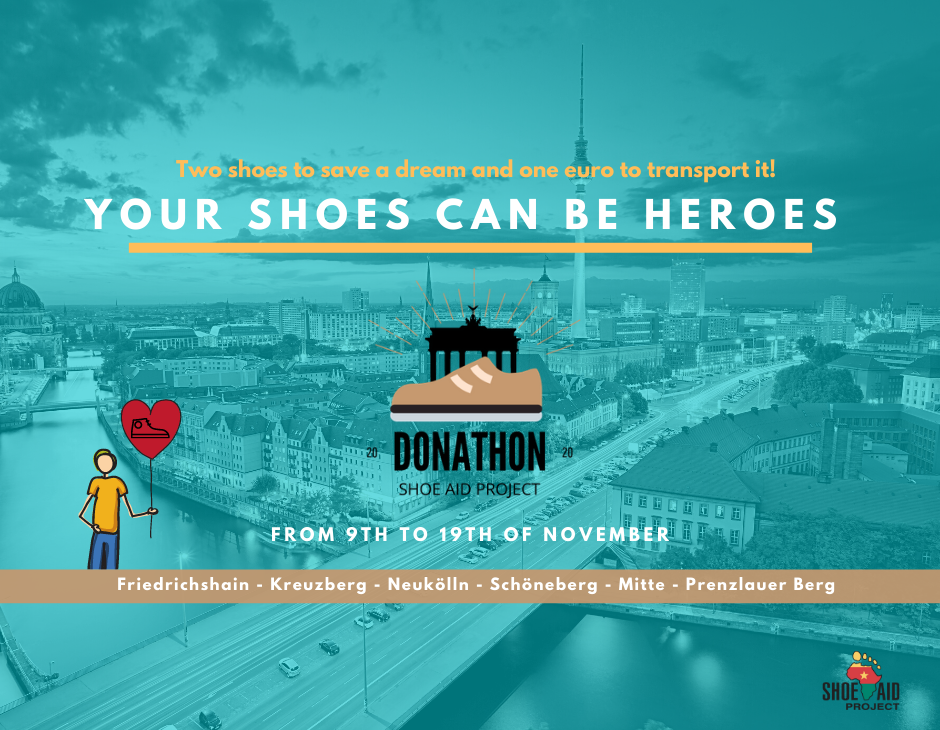 "Two shoes to save a dream and one euro to transport"  
Behind this slogan hides an entirely new event we have been working on over the last weeks: 
We are proud to say that we are launching the DONATHON 2020. 
It is basically a collection drive, where we collaborate with many shops and cafés in Berlin, to collect shoes. Over ten days we will place collection boxes in cafés, restaurants, bars and stores in six central Berlin districts, so customers all over the city can donate their used shoes. Financial donations are also appreciated, we use the money to store the shoes and ship them to Cameroon. 
After the ten days from 17th till 19th November, we will collect all shoe donations by bike. The whole drive is covering the distance of a Marathon. The route will lead us through Friedrichshain, Kreuzberg, Neukölln, Schöneberg, Mitte and Prenzlauer Berg. After the DONATHON the donations will be brought to Cameroon to be distributed to families and children in need of shoes. 
We have been planning this event for the first time now and are really excited about the turnout.  
The DONATHON (DONATION & MARATHON) is carried by two motives: The donations, on the one hand, are the essence for helping the people in Cameroon. The marathon, however, represents the idea of working together. For a single person, the distance of a marathon would only be manageable with a huge effort, but when all of us take part we can accomplish the distance, the number of shoes needed and way more. Our goal is to collect about 600 pairs of shoes with this event and to achieve that, we need your help. 
We appreciate support in all ways and to keep you all in the loop we will post constantly on our social media platforms.  
You can already check where our collection spots are going to be and which one is close to you. 
If you have used shoes you don't need anymore: Support us with the DONATHON 2020 and bring them to one of our collection spots. We are looking forward to all of you!