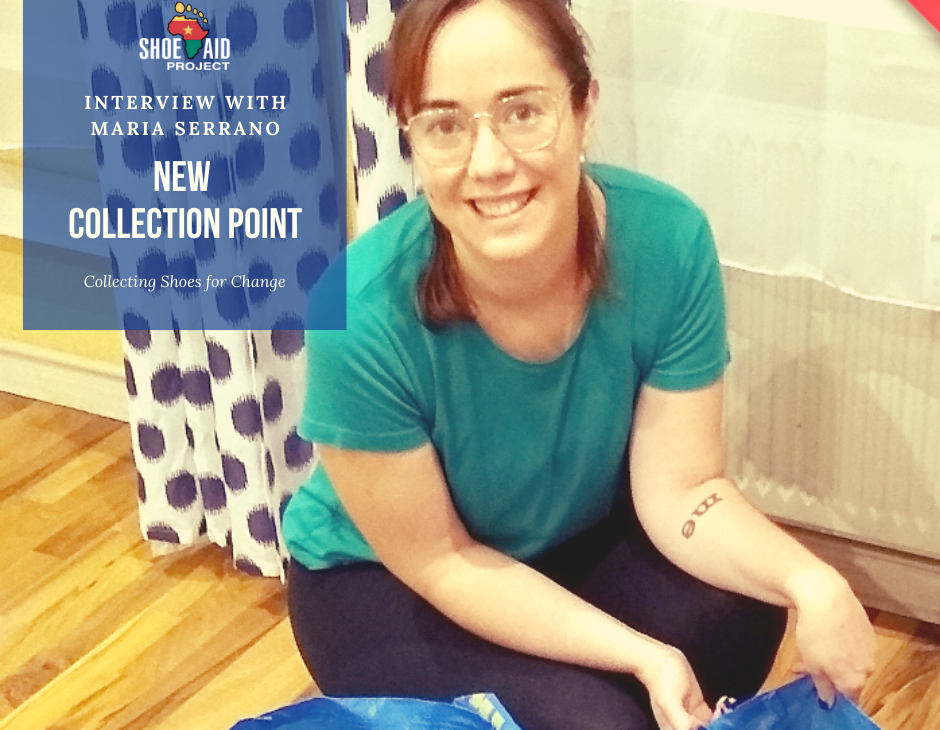 MARIA OFFERS A NEW COLLECTION POINT FOR SHOE DONATIONS IN SPANDAU
"If we really want to make this world a better place then everyone needs to contribute. Even if it's a small contribution it will make a difference in someone's life", says Maria Serrano. Maria is one of our most active shoe collectors/donators. Our first meeting with her was last year during our Malarathon event.  We got the chance to talk to her and tell her about our projects, in which she became very interested, especially in our Shoe Aid Project.
Maria, who is originally from Spain, came to Berlin 4 years ago, to work in the social field. She has been looking to volunteer ever since, and she found us just at that right time.
"Before discovering the Shoe Aid Project I was not aware of the importance of shoes, and how big of a difference they contribute to someone's health." Ever since then she has been very active in her pursuit of shoes. So far Maria has organized 2 shoe drives, where she collected more than 150 pair of shoes in total.
The Spandau resident started her first shoe drive by asking work colleagues and friends for their unused shoes, which they wanted to donate. As she started making progress she built up the courage to ask her neighbors as well.
"I think the problem is that many people actually want to donate their shoes but don't know where to go" says Maria. She explains that once people knew about her shoe drive, they started contacting her, resulting in an easier and more "organic" second shoe drive, where she managed to collect almost double the amount of shoes than she has in her first one.
When asked about the main reason as to why she took initiative and started collecting shoes she said: "I became very conscious about the things that I'm throwing away. When I found about the Shoe Aid Project it was perfect for me because I have been trying to reuse and recycle for a while".
"I can see myself doing this long term, as it is not that demanding at all and it makes other people's lives better because everybody needs shoes for various reasons such as doing sports or generally to stay healthy and avoid foot infections.".  Maria  still has not decided when she will carry out her next shoe drive. However, she believes that some shoe drives will come more natural and some will need a little bit of a "push" from her side. Nevertheless, she is not worried and trusts that the people in her environment will always be ready to help if the chance arises.
The planning of shoe drives isn't Maria's first social work. She has been an active volunteer in the past as well. She volunteered for the Red Cross in her hometown in Spain, as well as the Immigrant Association, which helped homeless immigrants get off the street while providing them with food and shelter too.
As we came to the end of our interview Maria wished to tell the readers to be aware of the importance of being sustainable, and wishes that people take reusing and recycling more seriously because even if we are not able to see the change immediately we have to believe that it's coming.
She tells all the people in Spandau, if you ever want to donate your shoes then don't hesitate to contact her, she would be thrilled to come and pick up your unused shoes. We will pass on all your inquiries to Maria.
We would like to thank Maria for her work and for being such an active and involved citizen.
Stay you!