It is with great excitement to announce the return of our shoe collection project in Berlin and beyond! 
The arrival of spring is the time for renewal, energy, hope, positivity, and, perhaps most importantly, the time of the famous Spring Clean-Up! This framework gives us the perfect opportunity to launch the Big Spring Shoe Clean-Up-Campaign of the Shoe Aid Project!   
Spring is the time for new beginnings, usually starting with a big clean-up in and around the house involving our shoe cabinets. The Shoe Aid Project Team is here to collect your unwanted shoes of any season, size or type. Our aim is to send a wagon full of shoes to Cameroon by the end of 2019! In this essence, we are calling upon our donor groups: schools, sports teams and clubs, fitness studios, churches, shoe stores, shoe retailers and producers to help us collect all kind of shoes in a good condition. 
Supporters are also highly welcome to join this initiative by providing us a space to store the collected shoes or any kind of vehicle for the transportation. Financial aid to cover the warehousing and shipping costs are also valued. 
We, in exchange, will be ready to give you all the support you need to make this action successful.  
This is how it works: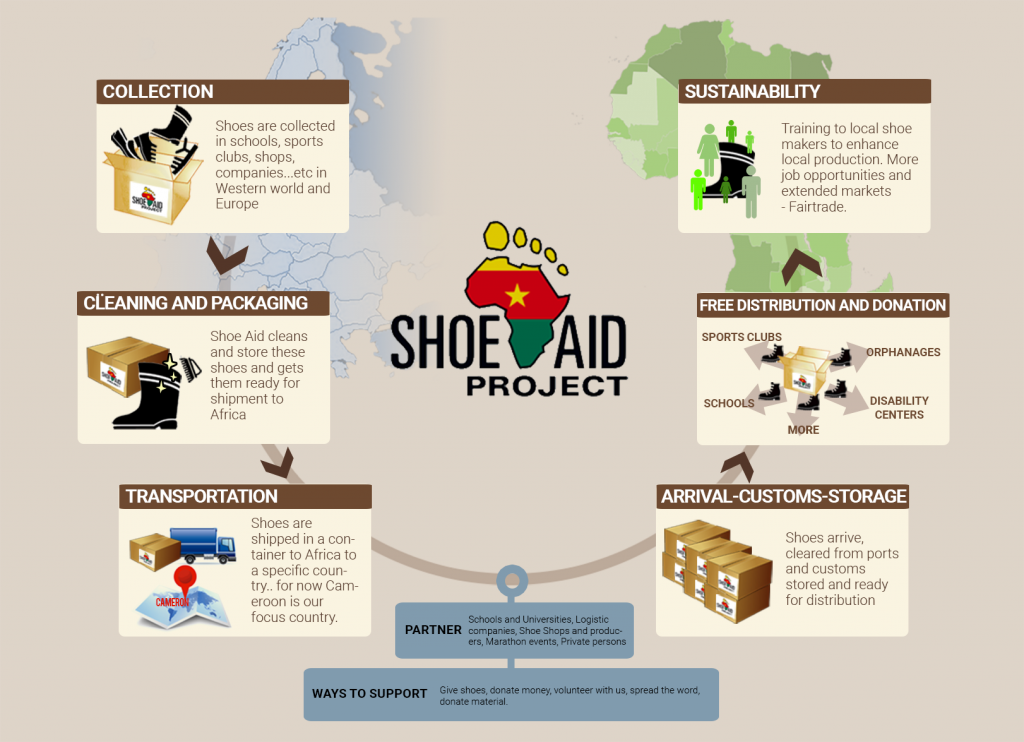 By giving and sharing shoes, men, women and children in these areas are exposed to more productive opportunities such as proper education, better working conditions, effective sports participation and a higher self-esteem. These groups are totally then freed from contacting injuries, illnesses and problems related to the lack of footwear.  
This is a great opportunity for families, organizations, companies, shops, celebrities and for all of us to take action and offer support!  
Our team is looking forward to collaborating with you and meeting all the enthusiastic supporters. 
You can reach us here.