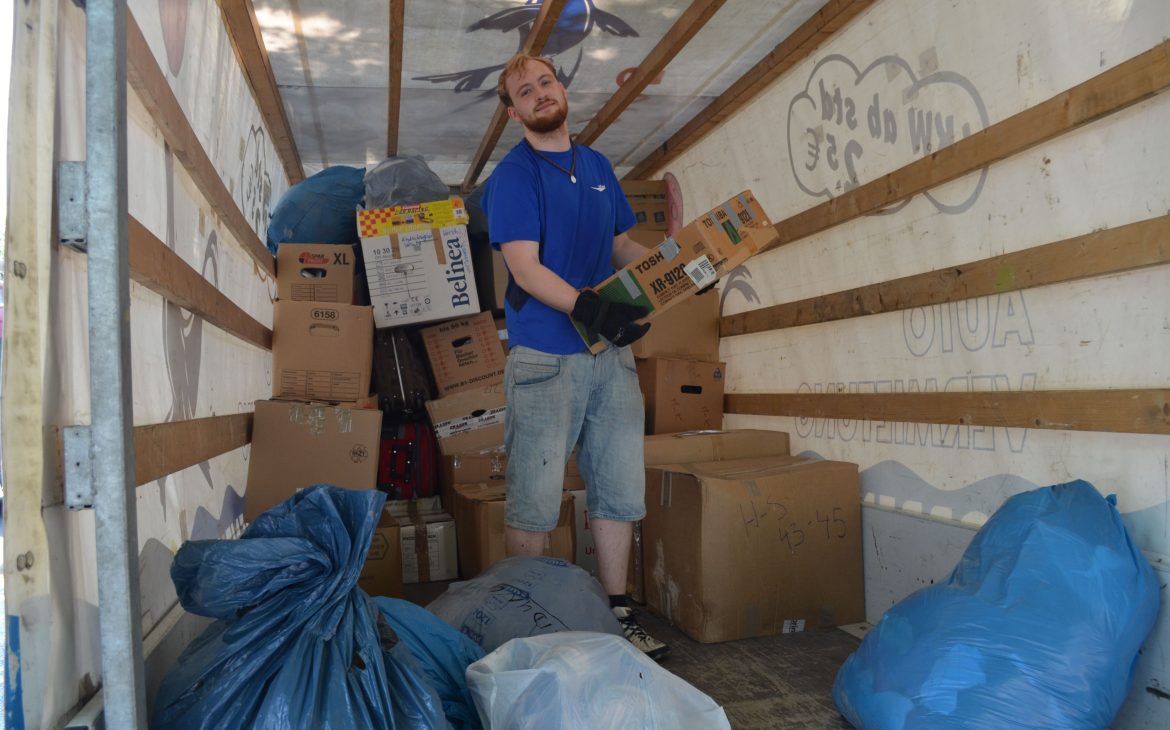 How the donations get to the people of Cameroon – An insight into our work 
 by Hannes Krüger 
It seems relatively easy to explain our Shoe Aid Project: We collect shoes that are not needed anymore from our German donors and send them free of charge to people in Cameroon. Yet, by looking behind the scenes, it becomes clear that a lot of work has to be done before the shoes finally reach the hands of the people in Cameroon.  
The whole year our Hope Foundation team collects shoes. We get them from private donors who saw one of our posters in a Berlin coffee shop or found us on social media or internet research. We also get shoes from stores that have old collections or stocks left over or from one of our shoe drive actions. For instance, we had two major shoe drive events in the last months: the DONATHON 2020 and our New Year Shoe Drive, where we collected several hundred pairs of shoes. 
Before we store all the donated shoes, we compile a list with size, type of shoes and number of pairs to get an exact overview.  
Once we collected enough donations to be shipped to Cameroon, the shoes get cleaned, filled into boxes and packed into a container. With the help of many volunteers, we pack the container in one storage unite, which takes usually a whole weekend.  
"We just want to make people happy with these shoes"  
– Gerald Bobga Fonkenmun, founder of the Hope Foundation 
As soon as the container is shipped from Berlin to Douala (seaport in Cameroon), our local team will decide when, where and to whom to give the shoes. Depending on what kind of shoes we collected, they will either be distributed directly in Douala or sent to Bertoua (focus area of our project work) to children, families or sport clubs.  
In Cameroon we always need a special permit for our shoe distribution event. Every congregation has its own chief who is also our contact person. Once he gives out the permit, our team and local volunteers can begin with the distribution. And words travel fast: the moment the chief gives out the permit, people will know that an event is coming up.  
 When the day eventually arrives, all shoes will be gone within a short period of time. There are always more people around than planned. They do not just come from the nearby districts but also from congregations further away. Distributing shoes to kids is always particularly emotional. The ones who receive a pair of shoes are obviously extremely happy, whereas the ones who did not get a pair this time around are really sad. Seeing them is always a difficult moment for the team and even though we are already planning to come back, we know the situation will come up again. 
 Nonetheless, happiness and gratefulness dominate the day as we distribute the shoes. It is every time overwhelming to see how much joy just one pair of shoes can bring to somebody.  
Bringing the shoes from Germany to Cameroon takes a lot of effort and endurance, but to see the joy in the people's faces is worth all of it.