The Shoe Aid Project launches a campaign to start the summer! Let's enjoy the start weeks of sunshine while exposing our feet for a good cause. In order to expose our project and engage more people to join our project and support the ideology of support with shoes, The Shoe Aid Project has just recently launched a campaign around Germany and the world where shoe friends can simply participate in the campaign by submitting a barefoot picture of themselves. This campaign will be promoted under the hash code #Barfußselfie/Barefootselfie. Your barefeet goes to show your support for the need of shoes in many communities around the world where close to 60 million people still go out everyday without a pair of shoes to use in order to meet up with their daily chores.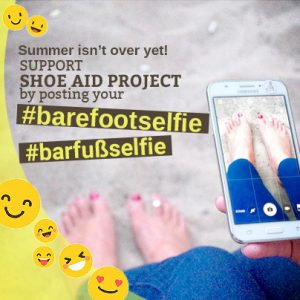 Take a selfie picture of your feet > post it online on a social media like twitter, facebook or instagram using the hashtag #barfußselfie (for german users and) Barefootselfie (for English users) > and nominate some friends, colleagues and family members of yours to join in the campaign by submitting theirs as well!
This is an idea of the Shoe Aid Project initiated by the Hope Foundation in Germany. The Shoe Aid Project aims at collecting unwanted used and new shoes to donate to those in need in Cameroon and neighbouring countries.
We would be very pleased about your support for this campaign and would also be grateful if you could support us with further projects via our other platforms.
Read more about us on:
Facebook: https://www.facebook.com/ShoeAidProject/
Instagram: https://www.instagram.com/shoeaidproject/
Twitter: https://twitter.com/Shoe_Aid